the scroll/david
The hairier this thing gets the more we want to descend into allegory symbolism and subjective interpretation. The author of Revelation feeds this in us:
in my vision
. As if he is frightened we might take this stuff as literal.
While I'm post-modern enough to not see this stuff as having one and only one objectively determined sense, neither do I think the whole enchiladas is up for grabs. If Revelation can mean anything, then it means nothing. And if it means nothing it stops being text. This writing, for weal or woe is trying to communicate. It exists to inform and to transform and so the objective is determining the how the author might want us read this, how we might live differently should the author succeed in his purposes.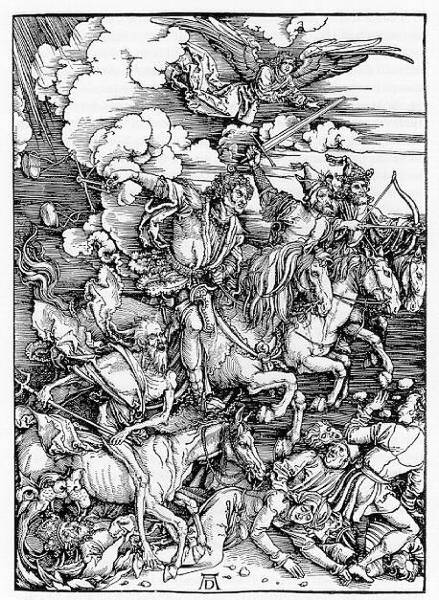 So where to begin. Six of the seven seals are broken and all manner of signs an portents are loosed upon the world. Are these magickal seals, the means of our destruction? Is God author of conquering armies, wars, famine, and death
by sword, by famine, by plague and through wild beasts
?
Forrest writes:
Or we can think of the scroll as a kind of "legal document", a divine decree that will manifest that meaning. A Roman will, for example, needed to be sealed by seven witnesses. The writing on the outside may be a summary/description of the contents within, but their actual fulfillment demands a public reading.
I think this is a helpful opening here. Firstly, these seals are not the content of the scroll. They are the preamble to the content. A King's will is about to be read, an edict empowering his heirs, establishing ruling structures, distributing wealth, gifts and power. The pretenders for the throne gather their armies to seize control. the reader of the scroll, the gathered assembly, knows this and calls out to them, "Come!" Do your worst.
The pretenders are divided against each other but united in purpose, they want to determine the outcome and they are prepared to kill to get it. And with the sixth seal broken open, we see how vulnerable, how impotent they are before the opening of the scroll.
Now this is my take. Is it any
better
than yours? That would depend on what we mean by
better
. It would depend on why we read and more importantly, why we try to interpret.
It seesm to me, the key questions here are 1) Are the Four Horsemen agents of God or part of the powers and principalities aligned against God and his people? and 2) Whose side are we on?
To upack these questions we need to look to our own reactions to the text and explore why we react the way we do. What is in our psyche or our history that responds this way? What is in the text that pushes those buttons?